Bradi Bear here! Today I'm coming to you with some helpful information about leash laws and dog laws in Arkansas. Taylor King has given me the task of researching and informing my fellow Arkansans on Arkansas leash laws!
I can understand how I'm the best pup to tackle this sometimes-touchy topic. I get it; not every doggo out there is as friendly and cuddly as me! Some pups get scared around humans and react defensively. But it's not just dogs who need to learn to behave; humans can learn how to keep their own pets safe around strangers and how to behave around dogs that aren't theirs!
First things first…
Does Arkansas Have Leash Laws?
The simple answer? No. The long answer? Yes.
Statewide leash laws do not exist in Arkansas. However, Arkansas gives each municipality the right to make its own laws regarding dogs and leashes. Since each city or county may be different, it's always best to check your own town's specific laws if you have any questions. For example, here are several links to a few locations' animal control laws:
Little Rock Leash Laws & Animal Control Laws
Springdale Leash Laws & Animal Control Laws
Arkadelphia Leash Laws & Animal Control Laws
Jonesboro Leash Laws & Animal Control Laws
Fort Smith Leash Laws & Animal Control Laws
Leash laws will vary from city to city in Arkansas. Overall, though, there is some common vocabulary used in Arkansas that can be helpful to know, no matter where you may reside.
What is a "Dog at Large"?
In general, we pups run into problems when we are OFF the leash. This is also known as a "dog at large." Sounds pretty mischievous to me, but a dog at large can be any dog who's out of his or her yard without some sort of leash or leash device attached to his or her collar!
As an example, according to Jonesboro's Animal Control Ordinances, under section 10-50: "Any person owning, possessing or keeping a dog which has been allowed to run at large within the city…Shall be deemed guilty of a misdemeanor."
What is Appropriate Confinement of a Dog on Property?
Depending on where you live, some pups even need to be leashed and supervised in their own yards! I know this might seem extreme (TRUST ME, I'm the one it impacts!), but you gotta think it is best for both parties! According to Fort Smith's Animal Control Ordinances, dogs can be leashed at home for no more than 2 hours. And in other places such as Little Rock and Jonesboro, dogs must be "tethered" and never "leashed" at home. Some laws even specify how long the tethering or "trolley" system must be (i.e. 10 feet in Fort Smith). But according to Springdale's Animal Control Ordinances dogs are allowed to run at large "on property of the owner of the animal located in an [non-platted] agricultural (A-1) zone." See what I mean when I say to triple-check your city or county's individual animal control ordinances?
When dogs are properly protected, pedestrians get the peace of mind that they can safely stroll Arkansas streets and sidewalks without the fear of any out-of-control pups. And furry friends get to enjoy the outdoors with their owners while being protected from unexpected harmful situations. It's a win-win!
What If I See a Dog Off-Leash?
Arkansas is known for its beautiful trails and scenic open spaces. It is the Natural State, after all! There is a very good chance that you could run into some pups out with their owners, running wild and free. Keep in mind that it is always a good idea to follow safe practices with unfamiliar dogs. Even if a pup looks friendly, if we don't know you, we are more likely to be afraid and defensive. If an owner gives you the ok to give a scratch behind the ears, approach the dog slowly. Give it time to smell you and give you the "ok" as well.
Never approach unfamiliar dogs or unsupervised dogs. A best practice is to immediately contact your local animal control services to ensure the lost or stray dog is properly cared for.
---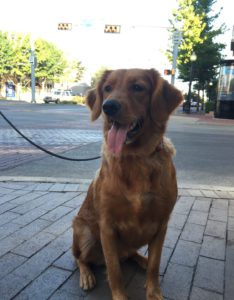 ---
How Many Dogs Can You Own in Arkansas?
There are limits to how many dogs you can own in Arkansas. Like leash laws, though, the number of dogs you can own varies from city to city. Each municipality offers guidelines on how many dogs you can own.
Generally speaking, the magic number is four. In Little Rock, residents are permitted to own four dogs and four cats. In Hot Springs, owners are not permitted to keep more than four animals, including dogs and cats, without a kennel permit. Bentonville residents are permitted no more than four dogs as well.
However, outside city limits, Arkansas dog owners are permitted to own as many as twelve dogs before they're required to apply for a kennel permit. And in some cases, an Arkansas city will not place a limit on the number of dogs you can own.
If you have questions or concerns about how many dogs you can own, your safest bet is to contact your local city offices or a nearby animal shelter.
Arkansas Dog Bite Laws
In most instances, a dog that has bitten someone is required to be quarantined for 10 days in Arkansas.
In Little Rock, for example, the dog will be quarantined with a licensed veterinarian at the owner's expense. The owner also has the option to relinquish the dog. In Benton, the quarantine is 10 days and may take place at a vet, shelter, or in their home. Before being released, the animal will receive clearance from a veterinarian and a rabies vaccination.
If you have additional questions about dog bite laws in Arkansas, contact the experts at Taylor King. They've helped countless Arkansans deal with injuries due to dog bites. You can message them online or call their local offices at 870.246.0505.
Sincerely,
Looking for Texas Leash Laws? Click here: Leash Laws in Texas
Photo: Matt Nelson