Road Work Ahead!
If it seems like Arkansas road construction has multiplied overnight, you're not imagining things. State roadways are currently undergoing two major improvement projects: the Interstate Rehabilitation Project and the Constructing Arkansas Program.
The projects will significantly improve Arkansas's roadways. Better roads mean safer passengers and less wear on your car. But they also mean you'll encounter more construction zones on your daily commute.
Work zones come with their own unique set of laws, but many Arkansas drivers have questions about them. Ultimately, these laws exist to protect both workers and vehicle passengers in work zones.
Q: I always see signs saying, "Fines doubled in work zone." What does that mean? When does it apply?
These signs are commonly found in construction zones, but they may need some explanation.
If a driver receives a citation for any moving traffic violations in a work zone, they will pay double the initial amount of the fine. This applies to speeding tickets, of course, but it includes much more than that! "Moving traffic violations" include impeding traffic, passing stopped school buses, reckless driving, and more.
With this law, it's important to read the fine print.
Q: When Does "Fines Doubled in Work Zone" Apply?
It applies only when construction workers are present. It also requires two types of signs to be posted: 1) "Fines doubled" signs, posted between 1 mile and 1500 feet ahead of the work zone; and 2) Signs indicating the maximum work zone speed limit.
To read the full text of the law, visit AR Code § 27-50-408.
Q: What is the speed limit in a work zone?
There is no universal work zone speed limit, so there is no one answer to this question. Among other factors, the speed limit will depend on the location of the construction. Is it on an Arkansas highway? In a residential neighborhood?
However, you can safely assume that the speed limit will be significantly reduced.
When you find yourself reaching a construction zone, slow down and look for signs with the speed limit.
Sometimes traffic may move even more slowly than the posted speed; go with the flow of cars around you and be prepared for sudden stops. Weaving through traffic in a work zone can endanger other drivers and workers.
And don't forget the "Zipper Merge." For details: How To Merge Safely
Q: Do I have to move over if a worker is on the shoulder?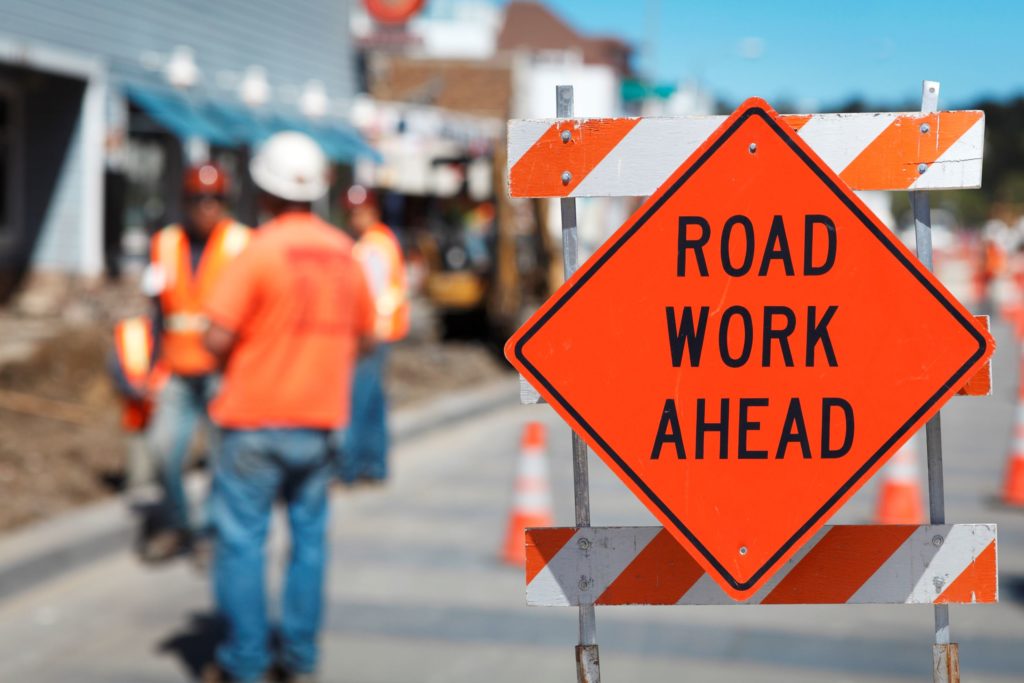 The "Move Over" law says yes.
This law applies specifically to passing authorized vehicles stopped on the highway. An "authorized vehicle" includes vehicles with flashing lights owned by the Arkansas Department of Transportation (AR DOT), their contractors, and utility companies. If you see a truck with flashing lights parked in a work zone, it's probably an authorized vehicle.
To follow the "Move Over" law, simply move to the lane furthest from the authorized vehicle until you have safely passed. If you cannot safely change lanes, slow down and exercise caution.
Violating this law can have serious consequences: a fine of up to $500, up to 3 months in jail, and/or a suspended license.
Read the full text of the law here: AR Code § 27-51-310
Q: Do cell phone laws apply in a work zone?
Yes. You may know that Arkansas law restricts cell phone use, but they are even more limited in work zones.
Q: Can you talk on a cell phone while in a work zone?
When workers are present, drivers may only use hands-free devices like Bluetooth. That means all handheld use, even for phone calls, is prohibited. Of course, texting while driving is always illegal!
"All handheld use, even for phone calls, is prohibited in a work zone."
This restriction is a part of the "Fewer Distractions Mean Safer Driving Act." It states that "the driver of a motor vehicle shall not use a handheld wireless telephone while operating a motor vehicle in a highway work zone when a highway worker is present."
Simply put, keep your hands on the wheel and away from your phone when you're in an Arkansas construction zone.
To read the law for yourself, visit AR Code § 27-51-1610
Q: I travel often throughout Arkansas. How can I know where construction zones are located?
The Arkansas Department of Transportation (AR DOT) maintains a website with detailed information to help drivers plan their routes. Visit IDriveArkansas.com to see construction and work zones throughout the state. You can select a specific area to see the project's description, length, location, and estimated completion date. IDrive Arkansas also gives alternate routes to avoid construction.