Mississippi Collision Repair Shops
Are you looking for a quality body shop in Mississippi?
What should I look for in a quality body shop?
There are a number of signs to look for in the shop you choose to repair your vehicle, including positive customer reviews, a written estimate, experience and certifications, and a warranty for their work.
Listen to past customers.
Flashy advertising may catch your attention, but that doesn't mean you've found the best repair shop for your needs. If you want to determine the quality of a shop's work, pay attention to customer reviews. Look for reviews through sites like Google, Yelp, Angie's List, or the American Automobile Association. Additionally, ask your friends and colleagues about their repair shop experiences. Word-of-mouth recommendations can be another great tool.
As you research, don't let one or two bad (or glowing) reviews determine your decision. Consider multiple sources so that you'll have the most comprehensive, unbiased perspective.
Ask for estimates from multiple shops.
If a body shop refuses to provide a written repair quote, that's a red flag. Never commit to an auto repair shop without first getting an official estimate of repair costs.
Compare quotes from multiple shops before committing to any one body shop. This is the best way to avoid being overcharged for getting your car fixed. That doesn't mean you should automatically choose the shop with the lowest estimate, however. The estimated cost is just one factor to consider in choosing a body shop. Along with the price, ask for a description of the repairs they plan to make and the methods they'll use to make them. If one shop provides a quote that's much lower than anyone else in the area, they may be skipping important steps in the repair process. Show the first quote to a second and third shop, and ask how their quotes compare.
Look at their experience and certifications.
How long has the body shop been in business? How much experience does the technician have – particularly, in working with a car of your make or model? These are two great questions to ask when selecting a repair shop. You can also ask if the technician has any specialized certifications or training.
Consider their certifications, too. There are a number of professional collision repair organizations. If a body shop or technician is a member, that means they've met higher quality standards. Two national organizations are the National Institute for Automotive Service Excellence (ASE) and I-CAR.
Additionally, some body shops are "Manufacturer Certified." This means that an automaker has given this shop their stamp of approval, along with specific manufacturer training, to ensure that repairs are made correctly according to the maker's standards. While this isn't a must-have certification, it certainly is helpful.
Choose a shop with a warranty.
Does the body shop warranty their work? Experts say this is a non-negotiable. Request a written statement of their warranty policy before you hand over the car keys. How long is the warranty valid, and what does it cover?
Some shops will offer a lifetime warranty, but that may come with many conditions in fine print. A two- to three-year warranty is more realistic. A one-year warranty is the absolute minimum you should accept.
What can I expect in the process of having my car repaired?
The exact timeline for getting your car repaired will depend on your specific situation. However, you can expect your case to follow a general process.
Step 1: Get your car out of storage.
If your car has been towed, you'll want to get it out of storage as soon as possible. This is important because of your duty to mitigate damages. Daily storage fees can also add up over time.
Step 2: File an insurance claim.
If the other driver is at fault and their insurance company is accepting liability, you can take the car to a body shop and get an estimate of repairs, which you'll then send to the insurance adjuster. Some companies may prefer to have an adjuster come look at your car and make the estimate. Be sure to thoroughly document the damage and take photos before any repair work begins.
Is the insurance company denying liability or ignoring your calls? It may be time to contact a personal injury attorney.
In the meantime, you can wait for a settlement, or you can use your own collision coverage to get your car fixed. While it may seem unfair to use your own insurance when the other driver was at fault, this is only temporary. If you wait for the at-fault driver's company to investigate, negotiate, and settle your claim, you could be without a car for quite a while. The goal is to get your car repaired and help you return to normal life as soon as possible. You may have to pay a deductible at first, but you'll eventually recoup this from the at-fault driver's insurance.
Step 3: Begin repairs.
Once you've filed with insurance, received an estimate, and selected a body shop, you can expect the shop to begin work on your car. The length of time it takes to complete the repairs will depend on the extent of the damage.
You may need a rental car while you wait for your car to be fixed. If your own insurance policy includes rental coverage, you can use that. Alternatively, you can request reimbursement from the at-fault driver's insurance company. They should refund you for the rental but may require proof that the car is rented for a reasonable price and length of time.
If the insurance company contests your rental fee or other costs associated with getting your car fixed, you may want to contact a personal injury attorney who will negotiate on your behalf.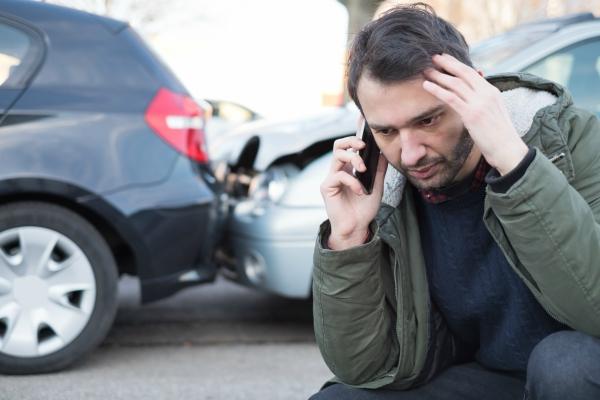 Injured in a Car Wreck?
If you were involved in a car wreck, it may be wreaking havoc on your life. You may be without a vehicle or unable to work, with medical bills and car repairs piling up. You may fear that your financial stability and good credit history are at risk.
The good news is that if the other driver was at fault, you have options. The attorneys at Taylor King Law are prepared to handle the legal proceedings and negotiate with the insurance companies to ensure you receive fair compensation. Our law firm has helped thousands of accident victims in over 25 years of legal practice.
At Taylor King Law, we handle your case like a long-distance race, not a sprint. We will always work to settle your case as quickly as possible so that you can get your bills paid and move on with your life, but we will never cut corners or allow the insurance company to take advantage of you. It's a process, and we are honored to walk through it alongside you. Because our attorney's fee is a percentage of your settlement, if there is no settlement then there is no fee.
Don't allow someone else's negligence to permanently impact your life. Protect your rights and hire an experienced attorney.
From obtaining your police report to ensuring your medical bills are paid, we're committed to being on your side – by your side.
If you think you may have a case or have questions, call our local office in Jackson, Mississippi, at 601.385.0582 or reach us at our toll-free number 1.800.CAR.WRECK for a free consultation. You can also reach us online by filling out the form below or using our online chat feature 24/7.
Protecting Your Personal Injury Rights
About Taylor King
"The best part of practicing, for me, has always been working with clients, explaining legal issues to people who don't have a background in law. I took my first personal injury case in 1992 when a client brought me the stack of letters she had received from personal injury lawyers after she was involved in a car accident. Instead of hiring one of those firms, she asked me to represent her. As I worked with more and more people who had been seriously injured, I realized that many people do not know their rights as accident victims.
Eventually, I started the Taylor King law firm to meet the needs of my friends and neighbors. Our first office was a two-room, 125-year-old building in downtown Arkadelphia.
We've grown since then; today we have a team of more than 20 attorneys and over 50 professional staff members who are ready to help. With an office in Jackson, Mississippi, we've got you covered."
— Taylor King
Office in Jackson, MS
401 East Capitol Street, Suite 216, Heritage Building, Jackson, MS 39201
Toll-Free 1.800.CAR.WRECK
Out of State 1.877.213.5660
Local 601.385. 0582
Fax 769.572.4575
VIEW OUR